You've read all the sites that tell you 100 ways to make money online. You've done surveys for 5 hours and earned yourself 20 bucks…better than nothing you say. But is it? Is five hours of your time only worth a measly 20 bucks? You've gone online and done data entry, and mindless clicking while you half watched TV…All the pennies add up you say…Well so does your time you know…
Ok then how do I make some real dough? You can make real money online, no doubt, but it is hard unless you know what you're doing. Just look at how many people are making youtube videos (teenagers becoming millionaires), students running blogs with adsense and links – making a fortune, office workers making their own affiliate sites…seems like every man and his dog is out there hustling for a fast buck, trying to earn online. It's too crowded, too hard and you haven't got the energy.
So how do you make the real money online fast begs the next question? It takes work at the start, but once you have systems up and running and you've learned what to do, of course, yes the money will come fast. It works. And you can just sit back and watch it come in, managing your systems every so often. Or you can even get people to do that for you.
I'll go through some of the better non investment ways to make money online (well I say non-investment grudgingly, because you are actually investing your time you would otherwise have done something else with).
I'll list my shortcuts to make money online fast. Then I will move onto some systems that you can scale to seriously earn online from home, things that once invested in will keep giving you dividends. Once you can get those dividends level with your daytime job you've made it! You're free to do with your time as you please.
…
WAYS YO MAKE MONEY ONLINE WITHOUT INVESTING MONEY UPFRONT
Write and publish a kindle ebook. Publish your book and sell it on Amazon and you will get 70% of the sale on anything up to $10. Good if you have the written the next Twilight. You will hear a lot of wealth experts online harping on about making ebooks and getting rich. It's not easy to write a book and publishing and making a success out of it is harder. But if you can write some practical book on something that you're an expert in, something that solves a problem for people, then you're on the right path.
Fiverr – You can buy and sell mostly anything you can think of (including your grandmother…just kiddin) on Fiverr. And yes you guessed it, for only $5. The service you sell is called a gig. If you're handy making logos on Adobe Illustrator, or if you have a great stock of photos, are nifty with social media marketing, or just have a talent for anything really, you can make money on fiverr. 
If you've got something awesome to give, something that people need, you can certainly make a lot of money on Fiverr. People are making money online very fast selling backlinks and all kinds of black hat SEO (which can hurt more than help your rankings). I've even seen some people who make prank phone calls to whoever you want for $5, and some can make the equivalent of a living selling gigs on the site. Get stuck in!
As mentioned above, if you fancy yourself with the camera and have a stock of nice snaps why not sell them as stock photos to make some money on sites like Fotolia, istockphoto, Shutterstock (just to name a few of the bigger ones). Website builders, websites, publishers etc will buy them if they are quality pics. Nice way to earn some extra income for the photography hobbyists out there.
People watch more Youtube vidz than they do searches on Google. So that gives you an idea of how much traffic YouTube gets…holy smoke! So why not join the legions of amateur video stars and starlets and create your own channel and (hopefully) brand. Just think of something unique you can offer people. Are you a fashion guru?Are you an expert on making websites? Well you can start giving people content through your vidz. Make a name for yourself and build a following. Then monetize that mother with Google adsense or affiliate links and whichever else pays….
Upwork – Upwork is like the very posh cousin of fiverr. The idea with Upwork is you can get long term work off some clients so really you could make a good living off upwork alone if you are skilled in content writing, seo, graphic and logo making and similar fields.
If you're a professional of any description this could be the best website to make serious money freelancing on. Once you get a good ranking and have decent feedback you can start commanding a higher price for your work. The average cost of hiring a content writer is 25-30 bucks which is bloody good.
Skillshare – If teaching is your thing you might want to head here and take a look. Record videos of yourself doing tutorials in whatever it is you know alot about and can teach, charge ppl for the course and once people start signing up you get your cut paid into your bank account or paypal. Udemy and Titor.com are similar.
Websites that pay you to do stuff:
Ok so we have mentioned swagbugs briefly. It is decent for earning some small cash (well gift cards actually) if you have some time to kill – like if you're stuck at an airport or doing night shifts in a security job. Do tasks like taking surveys for businesses, watching videos, shopping online, searching the web, playing games and earn gift cards from $5 up to $25 from Amazon, Walmart and popular outlets. It's free to join and has over 15 million members. Make money online fast? Not that fast no.
Usertesting.com – This is a nice little way to make money online fast. Become a verified member (you will have to do a test first). Then apply for jobs to test a new website or app (be quick though, as it is difficult to get the jobs). Go onto the website or app, answer questions, complete tasks and give a commentary of your experience as you are navigating the site (you will be recorded doing this) and you earn yourself $10. It takes around 20 minutes. Nice!
If you are good at writing articles here are some of the better websites to take a look at. We've already mentioned Upwork, which pays well for writers, but be difficult to get regular jobs for newbies and hence can take time to start earning decent money. The others we'd recommend are:
Matador network – Pays up to $60 for accepted posts, average however is around $25 (which isn't bad) Maximum word count is 1500
iWriter – depending on your level (you get stars the more articles you have accepted by happy clients) you can earn over $200 for a 4000 word article, but that takes a long time to get to the elite star level to actually command that price. Average articles pay $10. Write 300 word articles to 4000 word ones. The great thing about it is that you can pick your jobs and write about topics that suit you. You pick the job, write the article, then depending on the client (you have to be quick to submit as it's the client usually chooses from the first submissions they were offered). Great thing about iWriter is, you can sign up and start getting jobs straightway.
Textbroker -Pays up to 5 cents per word. Work your way up to earn the top dollar for your submissions (similar to iWriter)
Here are some companies that will employ your services from the comfort of your living room chair:
Leap Force – One of the ways Google (and all the other search engines for that matter)
does its Search Engine Ranking Pages. Basically view and rank websites, and work on your own schedule. It doesn't cost anything to register. You will need to have good broadband, good anti-virus software installed and you have to be over 18. It's not super easy to get hired but it's quite a fun and easy way to earn decent dollar online – $12 and upwards. Not bad.
CrowdSource – get jobs transcribing, writing and editing big scale projects, right down to "microtasking" data entry type jobs. Like Leap Force you are trained or tested before you can apply for jobs. Once you pass, you decide on what jobs you want from their catalog. You pick your work schedule, whether you want to do 2 hours per week or 42.
Become an agent on Liveops and work as a contact centre agent from your own lovely bedroom desk! You can work in customer service, sales, insurance and a few other areas. Pay is around the $12 per hr.
Talent.studiod.com – StudioD or DemandStudios as they were formerly known by is a hiring platform for creative writers. The pay is quite low but a nice way to make some money off those short stories or film scripts you have laying idly on your hard drive since 2005.
Amazon's Mechanical Turk – by no means a get rich quick method but by performing basic tasks (known as HITS – Human Intelligence Tasks) which include doing things like surveys, writing product descriptions, selecting objects from videos and pictures, rating YouTube videos, transcribing audio and the like… you can make some fast coin.
Mechanical Turk is owned by Amazon but used by many different varieties of companies to access workers to do these type of tasks. Pay per HITS are low (5 cent usually)., however the tasks can be done in minutes so you can stack those 5 cents up pretty quickly. Like all freelance platforms you have to earn you stripes before you can go for the bigger paying HITS. You might need to amass 500-1000 HITS to earn the bigger money jobs.
Ok so as you see now, all these methods of making money online fast are actually supplementary forms of income. Apart from possibly a few sites (depending on what you can offer) you are not going to make a fortune of these ways. The next set of systems I will list do actually have the potential to make you a very good living. And yes once you are up and running with any of them you can safely quit the day job and work for yourself.
Number 1:
SELL PRODUCTS ON AMAZON
Amazon is the biggest platform in the world to sell products – bigger than all the others combined. Once you can find a product that will sell and put it on Amazon you will have a very successful business.The number of customers you can reach is more than triple the number of ebay customers (it's 237 million actually). Amazon, unlike other platforms, has a great reputation. People trust it and people love shopping there. Another great feature of Amazon is their FBA program (fulfillment by Amazon) which means you send all your stock to Amazon and they take care of storing and shipping your products.
From knowing which products to buy, to knowing where to source them to knowing which platform is the most suitable for selling your products on, or whether you should dropship products from the supplier directly to your customer, it is difficult to know where to start! Make money online fast? Which supplier should you trust? Should you dropship or send the products yourself? Would it suit you better to sell on Amazon or eBay or just sell the products through your website? How to know which suppliers are trustworthy? Hold on…what should I sell? It's a big learning curve figuring this stuff out on your own…
Salehoo is a Seller Training Centre and Wholesale Directory. It has pre-screened wholesaler directories, market research labs (so you know which products to sell), their training encompasses absolutely every last detail about buying and selling online, using eBay to sell, using Amazon, product sourcing, what sells best, importing & shipping, dropshipping, and there is also community forums where people selling online discuss their stories with all aspects of buying and selling and answer questions and offer advice to eachother – a great resource of collective knowledge on the field. Every supplier listed on Salehoo is 100% verified (8000+ legitimate suppliers so you can pick and choose without worrying about getting scammed). Combine this with the invaluable on-going training and support you receive and $67 dollars a year for all of this is just a no-brainer. Membership to the program gives you every tool you need to create a successful or multiple successful businesses online.
Take a look…
Number 2:
AFFILIATE MARKETING
In a nutshell affiliate marketing is promoting other peoples products and services and making a cut of the sale when someone buys. If you are unsure of where to start or how to set up an affiliate website, Affilorma is the largest and best affiliate marketing and training community on the web. It offers quick start guides and walkthrough lessons in how to make serious money online fast! Affilorma is a huge resource for affiliate marketers and thousands upon thousands of people are making full-time incomes and more (I've heard of people making 10k a week through affiliate marketing) through simply following their blueprint for building profitable affiliate websites. It's that simple. Not only that, but they have forums and over the shoulder support for people in the process of making sites (you don't even have to make sites to do affiliate marketing) and they handhold you through the whole process making it all very easy.
It is packaged with various courses on what you need to master in order to create a successful internet marketing campaign. The training involves teachings on how to pick an affiliate marketing niche, creating a websites in that niche and monetizing that website.
A lot of people don't really understand what it takes to be a successful affiliate marketer; for most of us getting into it first time it's a quagmire. Affilorama starts you from scratch, guiding you through on how everything is done. Basically, it is a subscription based affiliate marketing training portal containing written and video lessons, affiliate tools and support. The free membership access offers you a large pool of training resources. As an affiliate training course, Affiloblueprint provides a step-by-step guide to learning how you can make huge earnings from affiliate marketing right from a newbie level. You also get tons of free fine-tuned affiliate software and marketing tools. There are also plenty of freebies on the lucrative SEO and PPC field. Everything is handed to you on a plate. It would take years of trial and error to learn 25 per cent of the knowledge on this course. If affiliate marketing is something you are interested in doing but you are feeling overwhelmed, Affilorama is that bridge that you're looking for.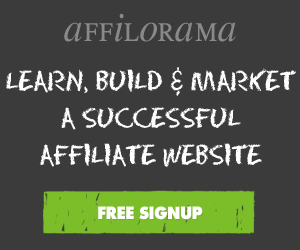 As you can imagine, the paid, premium package offers all the above and so much more. Now this is where over 50,000 users are literally minting millions with affiliate marketing. And the best part is that you don't have to pay the full subscription fee right away; you only pay $1 for 30 days, and $67 per month thereafter. If the program doesn't meet your expectations, which I highly doubt, you simply opt out before the 30 days expires. $67 is nothing for what you get with this great program.
Affilorama premium features
· Full access to all Affilo Tools
· Competitor tracker and checker, and backlinkswiper, which lets you take their links!
· Meet and interact with new linking partners
· Ongoing SEO check to make sure your affiliate platforms stays on top.
· Monthly video tutorial on latest trends and methods
· Free premium hosting for your 15+ affiliate websites for a year.
Asking if you can make millions with affilorama? Yes you can make your money online fast. But you have to keep in mind that just like all other legit online money making programs, it takes time to plan, design and execute. You just need to gather some self-discipline, patience and commitment to learn how these methods can leave you smiling to the bank every month.